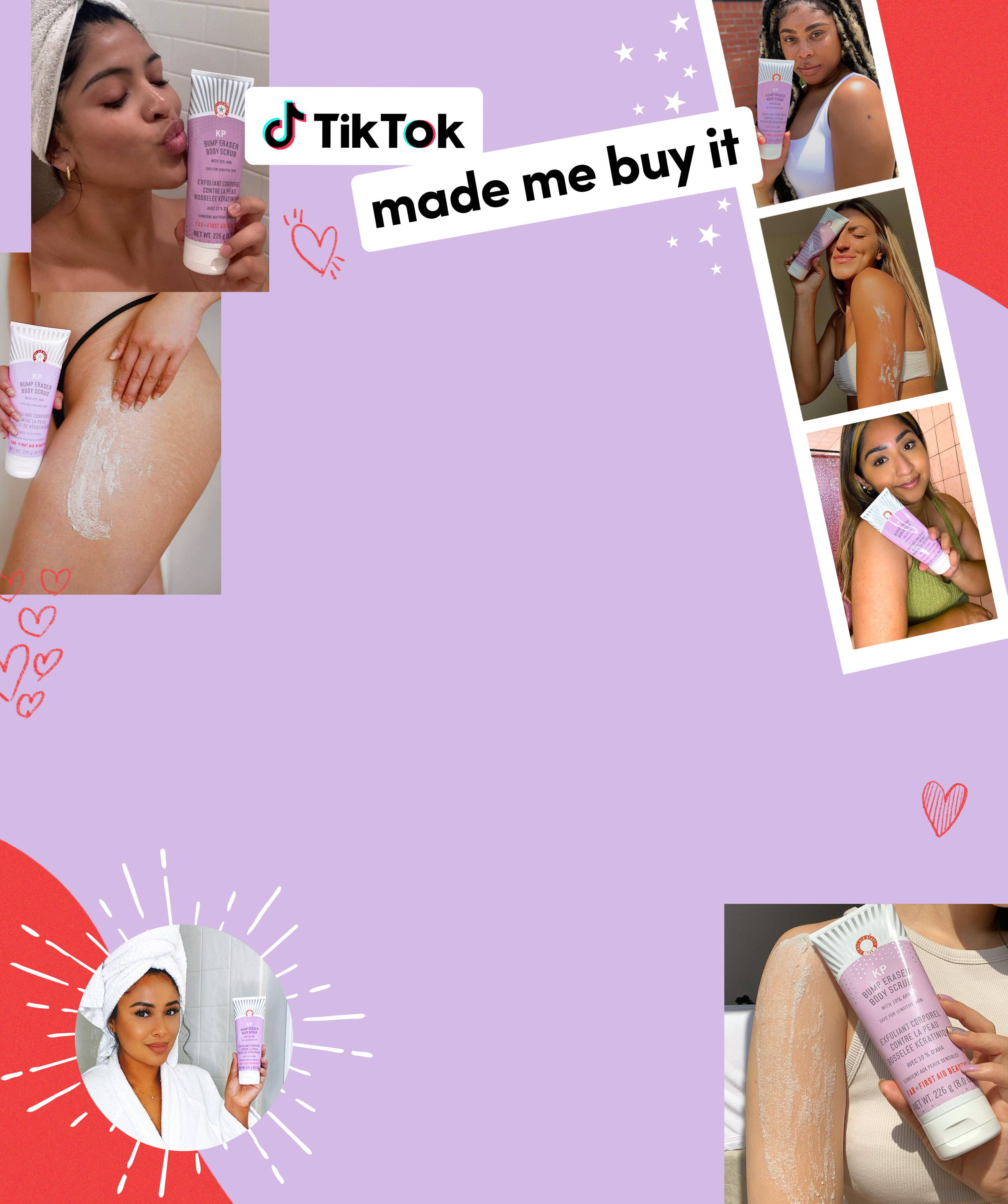 TikTok Made You Buy It…and you're obsessed. With over 50 million views on TikTok, the KP Bump Eraser Body Scrub will leave you feeling FAB with smooth, healthy skin. ✨

Introducing your new favorite TikTok song 💃 Show us which FAB product TikTok made you buy!


"This stuff is AMAZING! My KP is very aggressive and covers my shoulders, arms, neck, cheeks, butt, thighs, and legs. I got so excited when I saw this product and started using it 2x a week. It's helped so much in the past month."
"I discovered this AMAZING body scrub by First Aid Beauty. I noticed a difference after just ONE use! After the third use, the bumps were almost non-existent. I have NEVER felt this confident about my arms before and would recommend this product to anyone who might benefit from it."
" After using the KP scrub for about 2 weeks now/4-5x's I see a huge difference! A couple of areas are almost completely cleared and the areas where is was the worse - are looking a thousand times better. I can't wait to see after continual use how this will kick my KP to the curb. I'm beyond overjoyed to have found a product that works!! Bye KP!"
"I started using this product two weeks ago and I already notice a change in the texture of my skin. I have bad KP on my arms and thighs and I'm self conscious of the bumpy texture of my skin. This product has helped give it a smoother soft texture and I'm really excited that it seems to be working."
"After the first time I used it there was a huge difference! I use it twice a week (am only in the second week of using it) and am completely obsessed. If you're thinking about buying this but aren't sure if it'll make a difference, definitely do it!"
"I've suffered with keratosis for my entire life and I've tried everything and never had relief like this product provides. It does just what it says, it erases bumps completely. I am in awe of how well this works for me, even after just one use my bumps began to disappear. With more use they're gone completely. This product is a life changer."