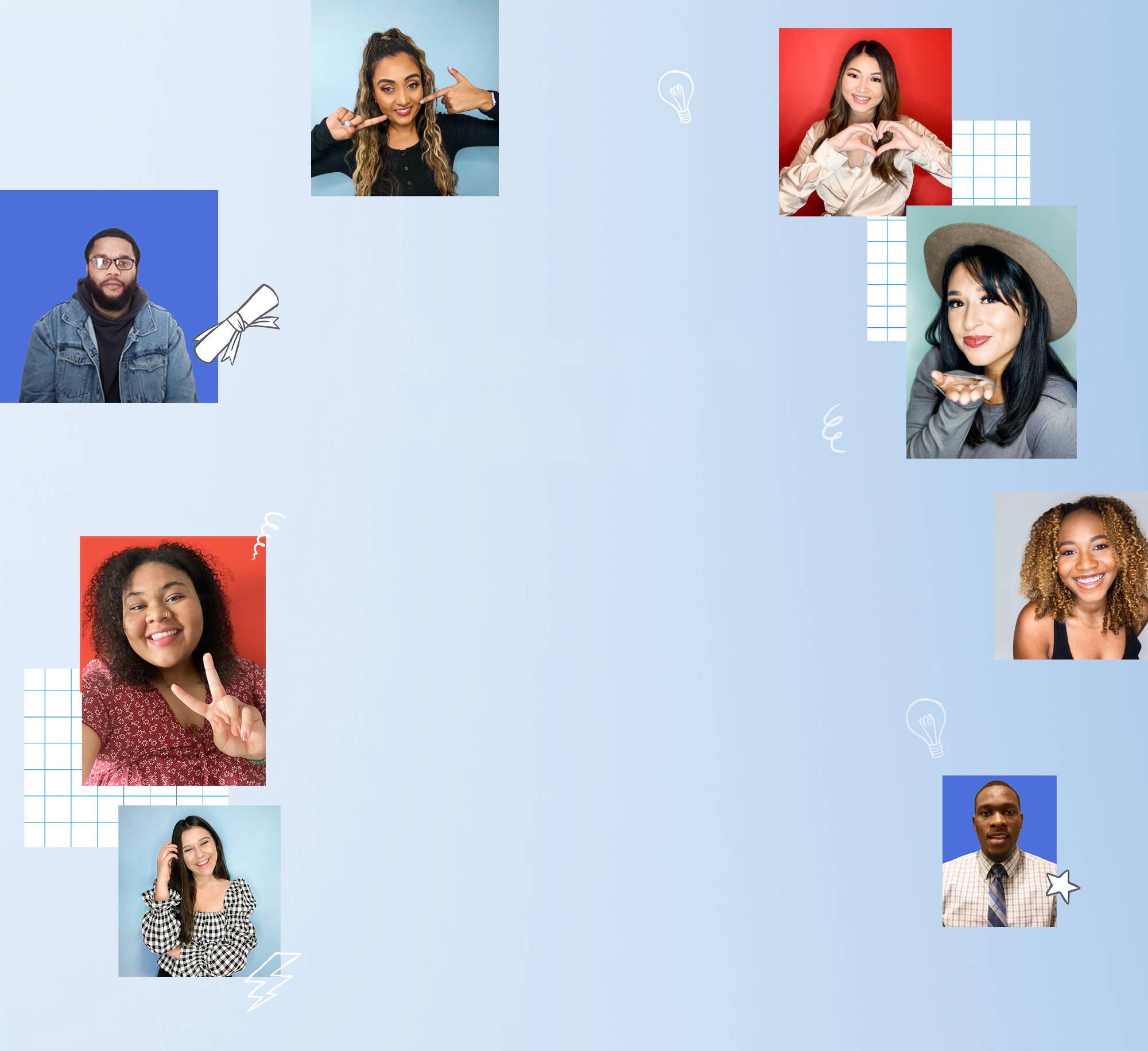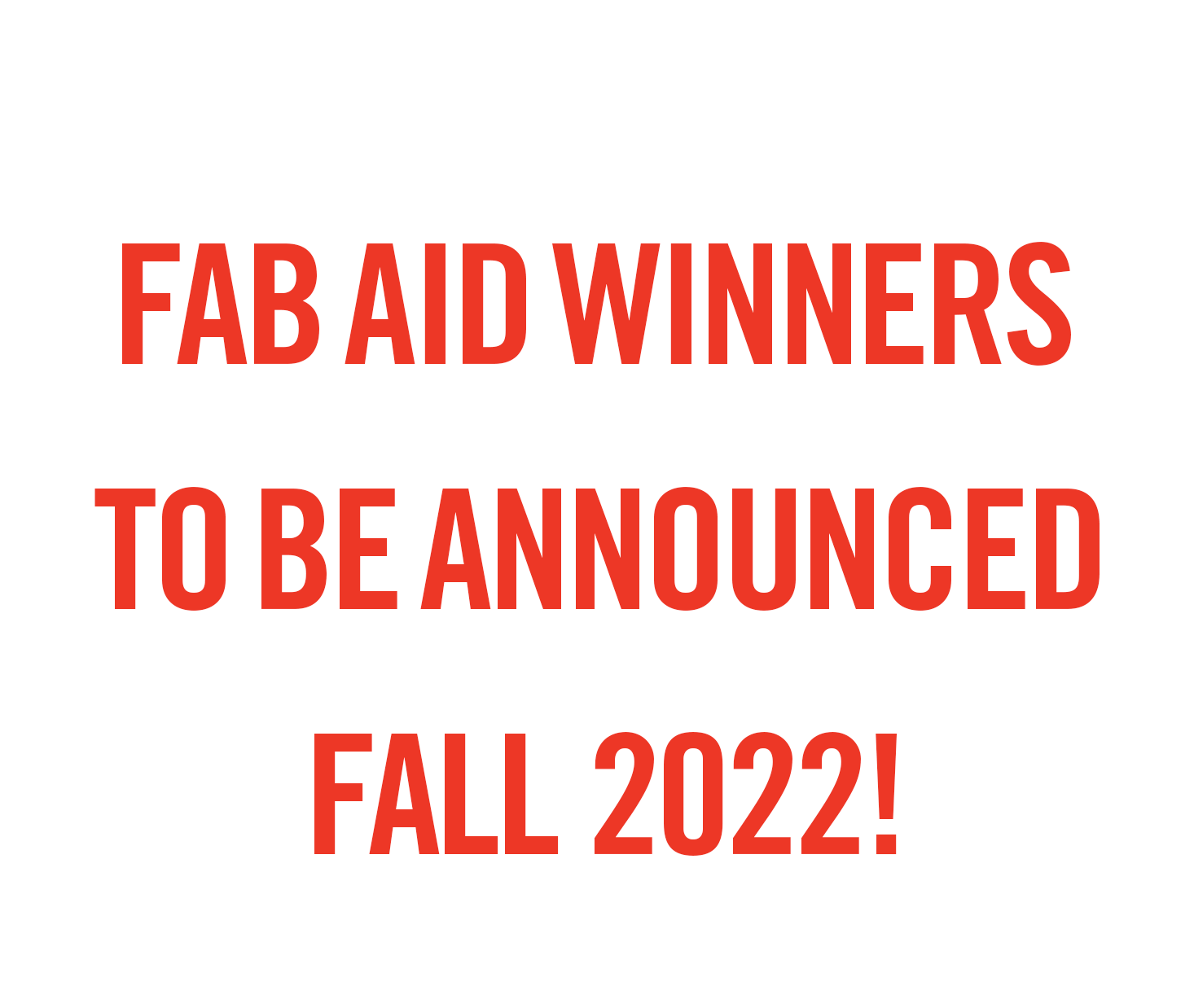 FAB AID is kicking off its third year with more college loan payoffs (apply below!) and a goal to create systemic change through financial literacy programming.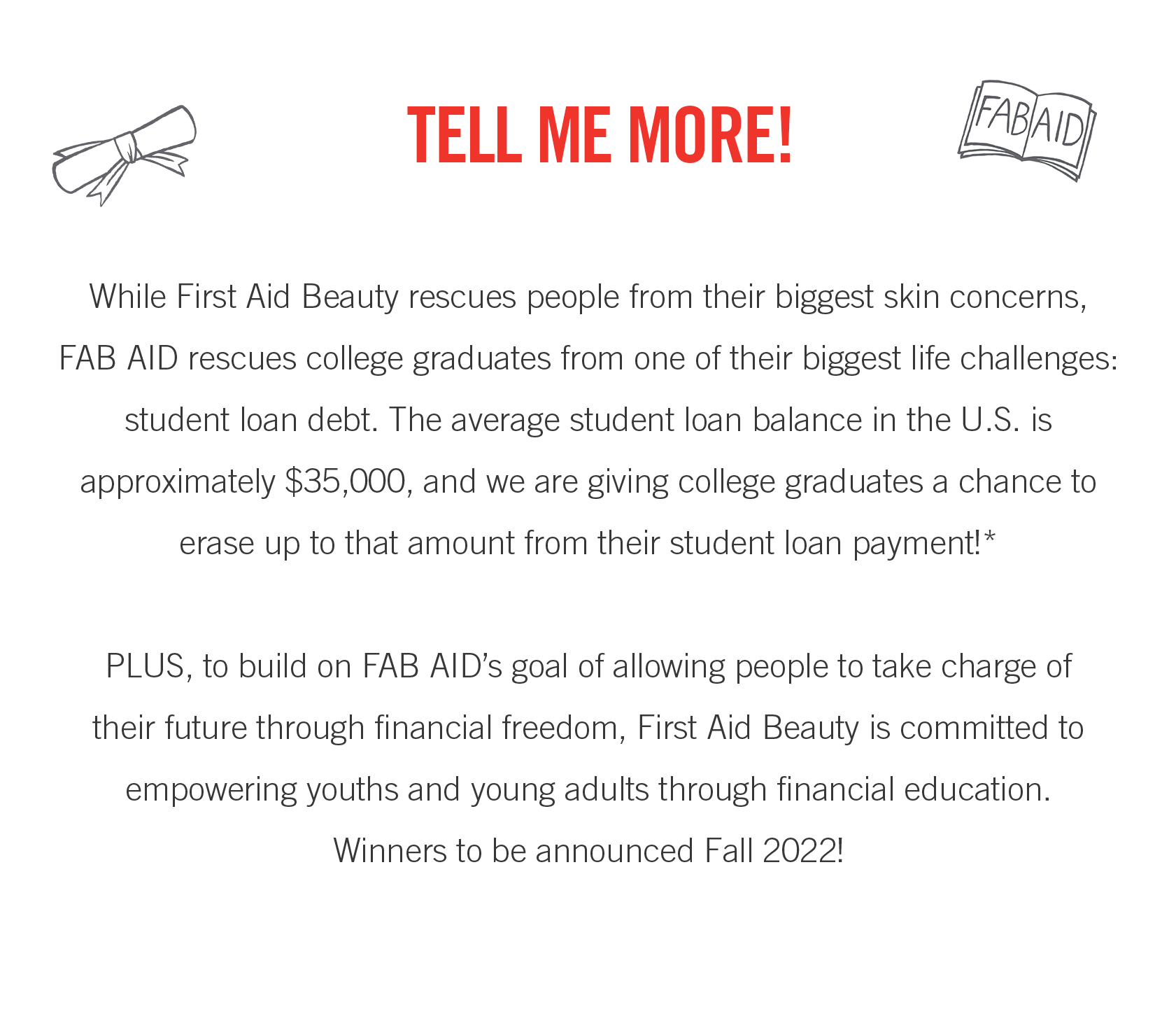 FREQUENTLY ASKED QUESTIONS (CLICK TO EXPAND)
LOGISTICS:
What is FAB AID?
First Aid Beauty launched FAB AID in February 2020 with a mission to rescue young adults from the crushing burden of student loans and has since changed the lives of more than 50 college graduates. In 2022, FAB AID will host another contest to pay off student loans, with winners receiving up to $35,000* (the average student loan balance in the U.S.) toward their loan amount.
Additionally, FAB AID is setting out on a new pursuit to tackle the systemic issue of financial illiteracy, which can propagate cycles of debt, particularly in underserved communities, and negatively affect mental health. A large majority of previous FAB AID applicants referenced this problem in their application videos, showing us that we had an opportunity to create real change that would have generational impact. We are excited to announce more details of this initiative soon!
Who is eligible to apply for FAB AID?
The FAB AID contest is open to legal residents of the 50 United States & the District of Columbia and Canada (excluding Quebec) who have graduated or will graduate from an accredited undergraduate program (4-year, 2-year or trade institution) by June 30, 2022. Excludes graduate school. Please see full rules for more specific details.
Will FAB AID pay off my graduate school loans?
We understand that student debt from both undergraduate and graduate school is a crippling issue for so many people, but FAB AID can only be applied to loans used to finance your undergraduate degree.
When can I apply for FAB AID?
First Aid Beauty will be accepting applications April 18, 2022 (9am EST) – June 3, 2022 (4pm EST).
When will winners be announced?
All winners will be notified in Fall 2022.
Can I apply more than once?
Each applicant is only allowed one entry per year. (Applicants from 2020 and 2021 may apply in 2022.)
Can I resubmit my video from the 2020 or 2021 FAB AID contests?
No, please submit an original video for 2022. This year's application video asks for different information than previous years' videos.
Can I apply for someone else?
Individuals may only apply on their own behalf and must appear in their own videos. We encourage you to share the information about FAB AID with deserving friends and family members who qualify!
How will winners be selected/judged?
A panel of judges will determine the grand prize winners based on the following judging criteria: future aspirations (75%), perseverance and overcoming challenges (25%)
VIDEO:
Can I shoot the video on my phone?
The video may be shot on a phone but must have good lighting and high picture and sound quality so that we can see and hear you well.
Any specific formatting rules for the video?
You video should be 1-2 minutes in length. We prefer you to shoot the video vertically.
What should I include in the video?
Your video must include a response to the following question: How would having your undergraduate loans paid off by FAB AID change your life (and, if applicable, the lives of those around you) for the better? Some thought-starters to consider: What life changes would winning FAB AID allow you to make (examples: career change, relocation, family planning, etc)? How would it impact your mental and/or physical health? How would winning impact your family? How would FAB AID allow you to make a difference in your community?
How do I submit my video?
For the 2022 contest, you may submit your video via YouTube, Instagram or TikTok. All links must be accessible via the link provided through October 2022.
To submit via Instagram or TikTok:
1. Sign into your Instagram or TikTok account or create a new account.
2. Upload your video.
3. Include #fabaid2022contest in the caption and tag @firstaidbeauty
4. Video must be public in order to be viewed by the judging team.
5. Copy the video link into the application form.
To submit via YouTube:
1. Sign into your YouTube account or create an account
2. Click "Upload" at the top of the screen
3. Click "Select Files From Your Computer" and select the video you want to upload. The video should begin to upload automatically.
4. Click "Unlisted" on the Video Options screen. You may also choose to make the video public. It cannot be password-protected.
5. Include #fabaid2022contest in the description copy.
6. Enter the YouTube link into the application form.
APPLICATION:
Do I need to submit my loan paperwork now?
No, you do not need to submit your loan paperwork in the initial application process, but you must submit an accurate undergraduate loan amount. The loan amount will be validated as part of the winner selection process. If you have consolidated your loans/debts, please make sure you are able to provide documentation on the amount for undergraduate loans.
Do I have to write an essay?
In 2022, the essay is required and will be included in the judging process (25% of total score). Please share your background, including (but not limited to) why you took out loans, any challenges you have faced, how loans have impacted your life so far. You may write up to 250 words.
Will my essay be kept confidential?
Your application, including essay, will only be shared with the FAB AID judging panel and associated contest agencies.
Will my video be kept confidential?
This year, we are allowing video submissions via Instagram, TikTok and YouTube. Instagram and YouTube videos must be public so that our judging team can view them. If sharing via unlisted YouTube link, the video will be kept confidential UNLESS you are selected as a winner. By submitting your application, you are granting First Aid Beauty ownership of your video to use for marketing and promotional purposes if you win.
PRIZE:
How much money will I receive if I win?
A minimum of 14 winners will receive up to USD$35,000 maximum prize amount, inclusive of loans left to pay off and a 20% tax offset payment, if applicable (Examples: If you are in the US and have $15,000 in loans, your prize would be USD$18,000; if you have USD$50,000 in loans, your prize would max out at USD$35,000). First Aid Beauty will not pay you back for loan payments already made and will not pay off credit card debt resulting from tuition payments.
How will I be paid if I win?
First Aid Beauty will be paying lenders directly, when possible.
Will my prize money be taxed?
US winners will be responsible to pay taxes on their prize and will receive an IRS 1099. US winners will receive a check in addition to their loan payoff worth 20% of their prize to help defray taxes
Canadian winners are not subject to taxes on the value of their prize.
How will winners be notified?
Winners will be contacted via email in Fall 2022.
How will the winners be announced?
Winners will be announced on FABAID.com, FirstAidBeauty.com and via an email announcement by October 15, 2022.
STUDENT DISCOUNT:
How do I redeem the student discount?
Current students can visit https://first-aid-beauty.connect.studentbeans.com/us to receive 15% off First Aid Beauty products online.
*Up to USD$35,000 per winner, inclusive of direct student loan payments and tax offset checks to the winners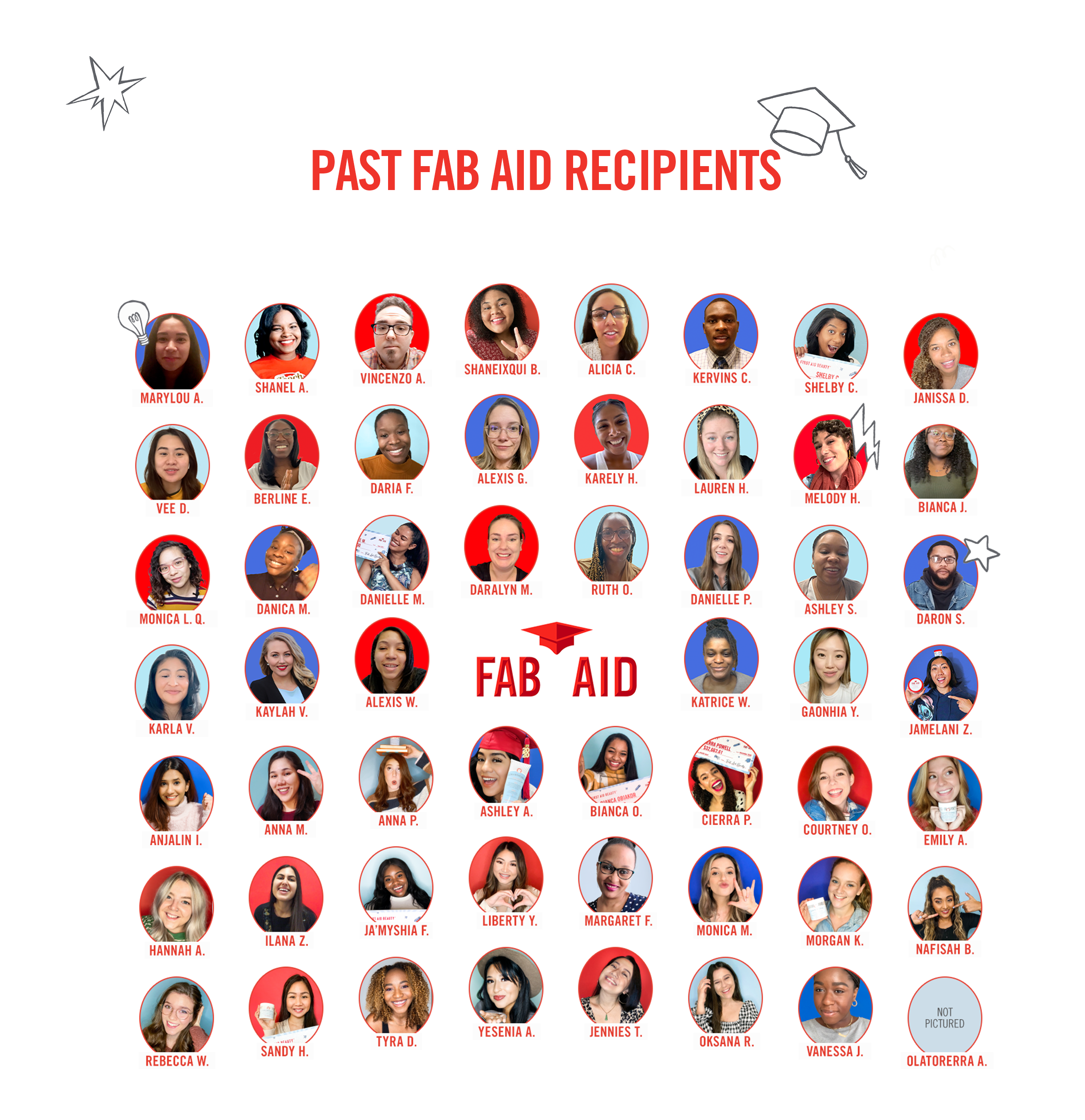 *Up to USD$35,000 per winner, inclusive of direct student loan payments and tax offset checks to the winners